Marietta Divorce Attorneys

Divorce and family law attorneys serving Marietta.
Address
291 SE Alexander St
Marietta, GA 30060
Contact Info
Fax: 770-426-1809
Email: info@stearns-law.com
Business Hours
Monday–Friday
8:00am–6:00pm
Weekend Hours
Saturday
9:00am-5:00pm
Sunday
By Appointment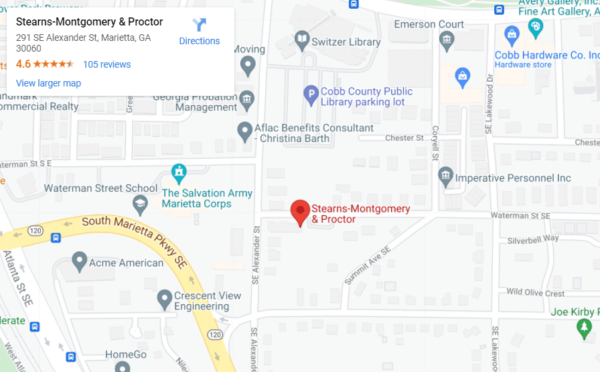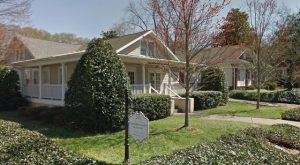 About the Marietta Divorce Law Firm
Leading Cobb County divorce attorney,
Mary Stearns-Montgomery
, began as a solo practitioner back in 1988. Due to her large success and reputation for fighting for her clients, Mary's growth was almost immediate. She then started a Marietta divorce attorney practice, which was just a small three-room office on Alexander Street and by 2000 moved a block down into a 5,000 square foot office space. It has since grown to 7,000 square feet to accommodate the large number of mediations conducted on the premises. In 2010, Mary added Georgia divorce lawyer
Ryan Proctor
, as a partner. Then in 2013, Ryan moved his main office to the
Buckhead location
. Randy Sabatini became a partner in April 2015 and opened the
Alpharetta law office
. Melanie Prehoka became partner in the Fall of 2020 and opened the Canton law office.
Find a Cobb County Divorce Attorney Today
Selecting the right attorney for your divorce or family law matter can be daunting. If you or a loved one are searching for the right Cobb County family law attorney, contact our team today to see how our expert team can help. For over 20 years, Stearns-Montgomery & Proctor has been serving clients in the greater Atlanta area, specializing in divorce and family law matters. With experience handling complex cases such as contested divorce, prenuptial agreements, child custody, and more, our Marietta family lawyers provide a deep wealth of knowledge, as well as the compassionate partnership clients need when dealing with difficult, life-altering situations. For more information on how our Marietta divorce lawyers and family law attorneys can serve you, explore our legal services below or reach out to schedule a consultation today.
Follow I-75 S and North Marietta Pkwy NE to Fairground St NE
Head southeast on I-75 S
Take exit 265 for GA-120 Loop toward Marietta/Roswell
Turn right onto North Marietta Pkwy NE
Continue on Fairground St NE to your destination
Turn left onto Fairground St NE
Turn right onto Roswell St NE
Turn left onto SE Alexander St
Turn left onto Waterman St SE
Turn right
Our Marietta law office will be on the right
The Marietta Divorce & Family Law Team
Paralegals
Kristi Culpepper – Senior Paralegal to Benjamin Mylar
Kelsey Fanning – Paralegal Assistant to Anne Thompson de Magaña
Christine Green – Paralegal / Efiling and Closing Clerk
Jamie Greenfield – Paralegal Assistant to Dominic Jones
Viktor Katkalov – Senior Paralegal to Mary Montgomery
Trina Lewis - Senior Paralegal to Marlys Bergstrom
Legal Assistant
Ally Bruno – Legal Assistant
Our Marietta Law Services
Additional Divorce & Family Law Locations Across Atlanta
From Our Clients
We can talk about our experience, dedication to family law and unique team approach, but there is something more valuable-what our clients say about their personal experience with us.
';
" ...a close-knit, family environment, and the lawyers care about your personal issues. "
" ...Melanie Webre and her team were very professional and made me feel comfortable from the start … I would recommend ANYONE, if you want to see results! "
" Thank you so much Ms. Webre for making this nightmare go away. You not only brought great emotional comfort to me from the first time you walked in that courtroom, but I also knew I was in good hands legally… "
"Randy provided us with great legal guidance/advice during a very difficult situation..."
"Randy provided excellent guidance with a personal approach during my divorce. He listened to my needs and used his professional experience to...bring my case to a good close!"
hello world