Buckhead Divorce Attorneys

Divorce and family law attorneys serving Atlanta
Address
3005 Lookout Pl NE
Atlanta, GA 30305
Contact Info
Fax: 770-426-1809
Email: info@stearns-law.com
Business Hours
Monday–Friday
8:00am–6:00pm
Weekend Hours
Saturday
9:00am-5:00pm
Sunday
By Appointment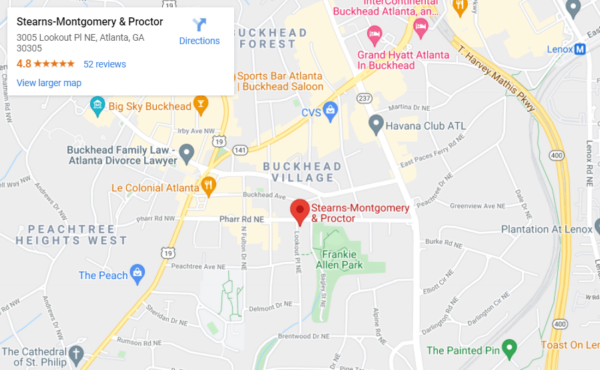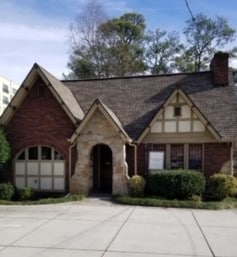 About our Atlanta Divorce Law Office
Our Atlanta divorce law firm features some of the top divorce and family attorneys in Georgia. We offer a variety of divorce and family law services for the community of Buckhead.
Atlanta divorce attorney, Ryan Proctor, heads up the Stearns-Montgomery & Proctor Buckhead office. The office was originally built in 1935 as a house and has since been converted to an office in the heart of Atlanta, commonly known as the Buckhead Area. Stearns-Montgomery & Proctor opened the doors in December 2013 to serve Buckhead family law and Atlanta divorce needs for clients in and around surrounding counties.
Experienced Atlanta Divorce Lawyers
For over 20 years, Stearns-Montgomery & Proctor has provided compassionate, best-in-class divorce and family law counsel to Fulton County and the surrounding areas. Our Buckhead Atlanta office welcomes new clients seeking expert partnership during divorce, child custody and child support battles, and other complex legal situations.
When searching for an Atlanta divorce attorney, it can be easy to feel overwhelmed with options. Our team of family lawyers can be the answer. Because we specialize in divorce and family law services, our Atlanta attorneys and staff have a deep knowledge and wealth of experience with the specific issues and challenges you may be facing. Additionally, our Buckhead family law firm and greater Atlanta area practice locations all offer weekend appointments for our clients' convenience.
For more information on how our Buckhead law office can help you, explore our full list of family law services below, or schedule a consultation today.
Take I-85 N and GA-13 N to Sidney Marcus Blvd NE
Head north on I-75 N/I-85 N
Use the left lanes to take exit 251B for I-85 Ntoward GA-400/Greenville
Continue onto I-85 N
Take exit 86 for Georgia 13 N toward Buford Hwy
Merge onto GA-13 N
Continue on Sidney Marcus Blvd NE. Take Piedmont Rd NE to Lookout Pl NE
Use the left 2 lanes to turn left onto Sidney Marcus Blvd NE(signs for N 400 N)
Turn right onto Piedmont Rd NE
Turn left onto Pharr Rd NE
Turn left onto Lookout Pl NE
Our Atlanta divorce law firm will be on the left
The Atlanta Divorce & Family Law Team
Paralegals
Kristin Pound – Senior Paralegal to Partner Ryan Proctor (remotely – home office Buckhead)
Dee Clark – Senior Paralegal to Lily Bristow
Legal Assistant
Alanna Dae – Legal Assistant
Our Atlanta Divorce Law Services
Additional Divorce & Family Law Locations Across Atlanta
From Our Clients
We can talk about our experience, dedication to family law and unique team approach, but there is something more valuable-what our clients say about their personal experience with us.
';
" ...a close-knit, family environment, and the lawyers care about your personal issues. "
" ...Melanie Webre and her team were very professional and made me feel comfortable from the start … I would recommend ANYONE, if you want to see results! "
" Thank you so much Ms. Webre for making this nightmare go away. You not only brought great emotional comfort to me from the first time you walked in that courtroom, but I also knew I was in good hands legally… "
"Randy provided us with great legal guidance/advice during a very difficult situation..."
"Randy provided excellent guidance with a personal approach during my divorce. He listened to my needs and used his professional experience to...bring my case to a good close!"
hello world