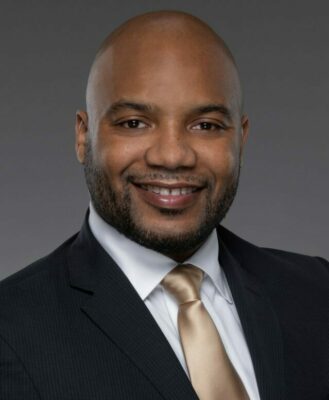 Marietta, GA
Phone: 678-971-3413
Fax: 770-426-1809
Dominic Jones
Associate Attorney
After completing college and law school in Louisiana, Dominic was drawn to metro Atlanta for his law career. While working in Atlanta and throughout the state, he developed deep and broad skills in negotiations, alternative dispute resolution, and mediation in various areas of family law.
As a family law attorney, Dominic's interest in further expanding his knowledge of family law led him to Stearns-Montgomery & Proctor. "I was aware of their reputation for excellence, so it made sense to join the firm," he said. "They have an abundance of support staff and legal resources, allowing their attorneys to do the very best for each client. They seem to have a family-focused work environment. Everyone feeds off of each other, working collectively to help each member of the team reach their ultimate goals."
"Dominic has an impressive array of family law competencies," said Mary Montgomery, founding and managing partner of the firm. "But he also grasps what clients are going through, the high emotion and low morale that is common among clients facing divorce and other family law challenges. I am confident that he will treat each case with the seriousness and compassion that it deserves. Dominic will be a real asset to clients at our Marietta office and to the firm at large."
Dominic describes himself as an accomplished, determined, and passionate attorney. "I have a great track record of performance with planning, preparing, and managing family law cases. I pride myself on my excellent analytical, investigative, and organizational skills and the ability to see things through from start to finish. Although I aggressively advocate for clients to get them the result they desire, I also provide them with a realistic projection on what they can expect from their case. I am willing to treat each case like it is my own and will always work extremely hard for every client.
Dominic hopes that clients notice he is very accessible and always keeps them abreast of the status of their case. "Although I maintain a seriousness of purpose on all my cases," he said, "they can see that I have a great sense of humor and can provide them with a pleasant experience regardless of the circumstances of their case."
In his spare time, Dominic regularly volunteers as a member of the Cobb County Chapter of Alpha Phi Alpha Fraternity Inc. with the New Georgia Project to register and civically engage Georgians on their right to vote, coordinating initiatives to promote youth mentoring in the community, and helping every holiday season to pass out gifts to low-income families in Cobb County.
He and his family are members and regular attendees of Our Lady of Lourdes Catholic Church in Atlanta. He is an avid New Orleans Saints fan and enjoys spending time at home in Smyrna with wife Cassidy, their daughters Kamryn and Kaiden, and friends. He also likes to travel, attend sporting events and concerts, and trying out new restaurants.
BAR ADMISSIONS
Northern District of Georgia, 2019
State of Georgia, 2014
EDUCATION
Southern University Law Center
Baton Rouge, Louisiana, 2013
Juris Doctorate
Xavier University of Louisiana
New Orleans, Louisiana, 2004
Bachelor of Science, Business Administration and Management