Fayetteville Divorce Attorneys

Divorce and family law attorneys serving Fayetteville
Address
500 W. Lanier Ave STE 905
Fayetteville, Georgia 30214
Contact Info
Fax: 770-426-1809
Email: info@stearns-law.com
Business Hours
Monday–Friday
8:00am–6:00pm
Weekend Hours
Saturday
9:00am-5:00pm
Sunday
By Appointment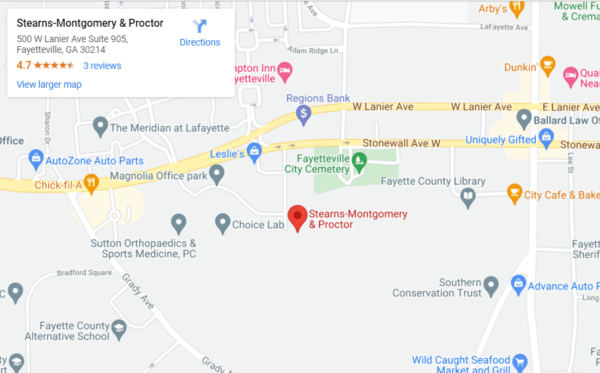 About the Fayetteville Office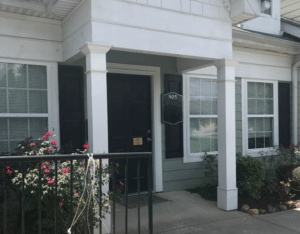 Seeing a need for reputable counsel in the Fayetteville area, Managing Partner Mary Montgomery opened the Fayetteville office in July of 2017. The goal of expanding the practice reinforced the teams desire to support the divorce and family law needs of our clients in that corridor of metro Atlanta.
Why Choose Us as Your Fayetteville Family Law Attorney?
Since 1988, the Stearns-Montgomery & Proctor team of family law attorneys has served the greater Atlanta area with expertise and compassion. We specialize in divorce and family law matters no matter how complex, so you can trust us as your partner during complicated and tumultuous times. If you or your loved ones are going through the process of divorce, child custody, adoption, estate planning, or other legal issues in Fayette County, contact Stearns-Montgomery & Proctor to see how we can help. Our Fayetteville family law office even offers weekend appointment times so that our clients can seek the counsel they need at convenient times. Call us for a consultation with a Fayetteville attorney today!
Head west on E Lanier Ave
Make a U-turn at La
Fayette Ave Our Fayetteville divorce law firm will be on the right
The Fayetteville Divorce & Family Law Team
Our Fayetteville Law Services
Additional Divorce & Family Law Locations Across Atlanta
From Our Clients
We can talk about our experience, dedication to family law and unique team approach, but there is something more valuable-what our clients say about their personal experience with us.
';
" ...a close-knit, family environment, and the lawyers care about your personal issues. "
" ...Melanie Webre and her team were very professional and made me feel comfortable from the start … I would recommend ANYONE, if you want to see results! "
" Thank you so much Ms. Webre for making this nightmare go away. You not only brought great emotional comfort to me from the first time you walked in that courtroom, but I also knew I was in good hands legally… "
"Randy provided us with great legal guidance/advice during a very difficult situation..."
"Randy provided excellent guidance with a personal approach during my divorce. He listened to my needs and used his professional experience to...bring my case to a good close!"
hello world