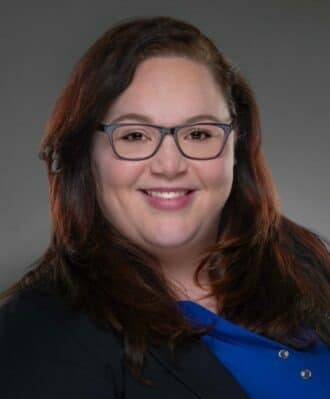 Gainesville, GA
Phone: 678-578-5185
Fax: 770-426-1809
Megan M. Long
Associate Attorney
Georgia native Megan Long earned her double-major college degree in only three years at the University of Georgia, then stayed to complete her law degree there. Many of her jobs during and after law school were within the state.
She's worked in the Georgia Legal Services Program and in a county public defender's office, served as a guardian ad litem, and interned and worked as an associate in private law firms. Within these positions, Megan has represented clients in all aspects of litigation, including settlement negotiation and mediation. She is experienced in the hard work that it takes to get a case through to a successful final resolution.
Megan said she chose Stearns-Law because it's well-known and -- more importantly -- well-respected. "It's a firm focused on zealous advocacy," she said. "I appreciated Mary's straightforward attitude and approach to client representation, which was echoed by the rest of the team."
Mary was impressed by Megan's ability to handle tough situations with grace and poise while effectively representing clients and their interests. "Some attorneys can handle tough situations well. Others are blessed with dignity and composure. Megan possesses a wonderful combination of both."
Megan describes herself as someone who believes in representing clients with the same care, compassion, and professionalism that she'd expect as a client. "With many unknowns in the process of litigation," she said, "I see it as my responsibility to keep clients informed and engaged with their representation and to be someone whom they respect and trust. As a child of divorce and now as an attorney representing clients in similar situations, I know first-hand how divorce and custody issues can affect all areas of life. Therefore, a large part of my practice is spent counseling clients to make sure they have the tools and knowledge to thrive long after their case is completed."
Clients say that Megan is knowledgeable as well as sensitive to individual client needs and what they're going through. They also see her as ethical, direct, reasonable, and approachable.
Megan and her husband, Will, a doctor of physical therapy, spend their free time visiting local restaurants and attending the many nearby events around their home in Gainesville and in the Atlanta area at large. "I also enjoy cheering on the Georgia Bulldawgs!" But her favorite dawg is Oliver "Ollie" Wendell Long. "He is my first official fur baby, although I grew up with dogs my whole life. He is a Chihuahua, a 10-pound lapdog, with the heart – and mindset – of a dog at least five times that size. I'm absolutely that dog mom who has way too many pictures of him sleeping on her phone and will show them to anyone, completely unprompted."
She is often found watching theater and traveling, especially to Germany. Megan started learning German in high school to fulfill the language requirement. "I immediately fell in love with the culture and language," she said. "Studying German has opened so many doors for me, including the opportunity to travel to Germany for an exchange program in high school and then two internships during college and law school, creating international friendships along the way. I truly love that I can immerse myself in another culture and connect with its people in a way that simply being a tourist wouldn't allow me to. I also thoroughly enjoy the looks on people's faces there when they peg me for an American, but don't realize I can understand most everything they say."
BAR ADMISSIONS
Georgia Court of Appeals, 2021
Georgia Supreme Court, 2021
State of Georgia, 2019
CERTIFICATIONS/SPECIALTIES
Georgia Office of Dispute Resolution, Registered Third-Party Neutral, since 2018
PROFESSIONAL ASSOCIATIONS & MEMBERSHIPS
Member of the Mountain Judicial Circuit Bar Association
EDUCATION
University of Georgia School of Law
Athens, Georgia, 2018
Juris Doctorate
University of Georgia
Athens, Georgia, 2015
Bachelor of Business Administration, Marketing & International Business, Magna Cum Laude, Bachelor of Arts, German, Magna Cum Laude