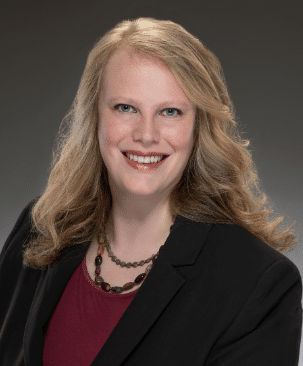 Atlanta, GA - Buckhead
Phone: 678-707-8000
Fax: 770-426-1809
Anne Thompson de Magaña
Senior Associate Attorney
Clients describe Anne Thompson de Magaña as someone who genuinely cares about their problems, works hard, and goes above and beyond to get them the best results possible in their unique circumstances.
Having more than a decade of legal experience and unmatched love for and loyalty to her home state of Georgia, Anne has spent her entire working life in legal positions in the Atlanta area, including as a private attorney in Smyrna and Marietta and serving as assistant district attorney for Cherokee County.
Anne established a strong background in civil and criminal litigation, family law, and appellate law, exceptional skills in trial practice, and the ability to speak fluent Spanish. Over time, she has developed an uncommon understanding of the ways family law situations can impact immigrant families, including circumstances where family members live in different countries and own property outside the United States.
Anne has a fierce work ethic, which has resulted in her winning a substantial majority of the appeals in which she has participated.
"Technical knowledge is important," she says. "But law is more of an art than a science. You have to be prepared to deal with the unexpected, be nimble. Most of all, you must be able to understand the difficult emotional situations that your clients are experiencing when they seek your help. Every client deserves the best, no matter how challenging their individual need. "
"I chose SM&P because I value the leadership of Mary Montgomery," says Anne. "Also, I'd worked as opposing counsel with some of the firm's attorneys and was impressed with their care for their clients and their overall professionalism."
Mary recognized qualities in Anne that made her a perfect match for the firm. "She's a quick learner. Just as important, she relates well to clients. I admire her patience and empathy. This is critical with all our clients, but even more so with immigrants struggling with a multitude of complicated issues."
In her very limited spare time, Anne appreciates family activities with her husband and three step-children. They enjoy travel, especially to the mountains, soccer, and Georgia Bulldog football. She also keeps her language skills sharp by watching numerous Spanish-language shows on Netflix.



PROFESSIONAL ASSOCIATIONS AND MEMBERSHIPS
Georgia Bar, Family Law Section
EDUCATION
Georgia State University College of Law
Atlanta, Georgia, 2005
Juris Doctorate
Emory University
Atlanta, Georgia, 2002
Bachelor of Arts, International Studies, Spanish