Divorce Counseling and Therapy
Counseling and therapy is a useful tool for many individuals facing everyday challenges or for those who are dealing with a major life event or trauma. Counseling or therapy is a great option for individuals who are going through a divorce, experiencing marital problems, those who are unsure about whether they want to make their marriage work, and even for children who have parents going through a divorce. Once someone decides that they want or need to seek assistance from a divorce counselor or therapist, they often don't know where to turn.
Schedule a Consultation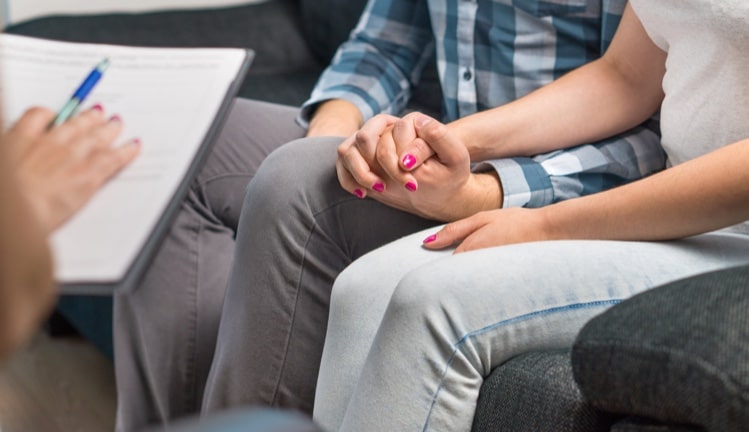 What Type of Divorce Counseling is Right for Me?
There are various options for counseling or therapy and every individual should do some background research before they select their counselor or therapist to ensure they pick the right option for them. Our team of experts can help find you divorce counseling near where you live.
Discernment Counseling
Many couples contemplating divorce don't know how to make the decision of whether to pursue a divorce or try to make their marriage work. A useful tool in helping couples make their decision is Discernment Counseling. Discernment Counseling is a way for couple to look at their options before making a final decision about divorce. More information about Discernment Counseling can be found at http://discernmentcounseling.com/.
Children's Counseling and Therapy
With the divorce rate as high as it is in the United States, it is not uncommon to be a child of divorcing or divorced parents. What does the end of a marriage mean for the children born to the marriage? Even with two parents who shield their children as much as possible from the issues arising from their divorce, children can still feel the strain that the divorce has placed on the family. This can be confusing, scary, and traumatizing. It is important that children understand that they have done nothing wrong and that they still have two parents to trust, turn to for care and protection, and talk to openly and honestly without fear of hurting the other parent's feelings.
Therapy for Young Adults Going Through a Divorce
Young adults going through a divorce may face problems specific to their young age. They may put themselves down for not being able to successfully enter into a marriage when they see their same-aged comrades and friends enjoying a happy and fulfilling marriage. It is important that these individuals seek the therapy that is right for them. A small-group divorce therapy program may be a good option for these individuals so that they have a support group of people who are going through the same thing.
Therapy for Older Adults Going Through a Divorce
Similar to young adults, older adults may experience problems specific to their older age. These individuals may have created their entire world around their marriage, only to have it fail. Not only are emotional issues from a divorce a major concern for older adults, older adults also have to deal with the repercussions of the choices they have made in regards to finances, property, and living situations. A therapist who has experience dealing with older adults going through a divorce may be a good option for these individuals.
Individuals and children of those individuals going through a divorce or experiencing marital problems may want to consider other counseling or therapy options, such as:
Court-provided or court-ordered divorce education seminars for parents and children

: Programs for parents and sometimes children are recommended or required in many counties in Georgia. Call your local family court for more information or visit our resources page.
School programs for children: Some school systems in Georgia offer guidance counseling and small groups counseling to children. Small group counseling helps children understand they are not alone and that others may be going through the same problems that they are. Call your local county board of education for more information.
Private family or individual therapy: Mental health centers, university family therapy centers, and private counselors, therapists, psychologists and psychiatrists provide family and individual therapy on a case-by-case basis.
Types of Divorce Therapy Specialists
It is important to know which types of specialists are available to you. Below are three common practices.

Psychiatry: A psychiatrist is typically a medical doctor who specializes in preventing, diagnosing, and treating mental illness. A psychiatrist is trained to differentiate mental health problems from other underlying medical conditions that could present psychiatric symptoms. They also monitor the effects of mental illness on other physical conditions and the effects of medicines on the body.

Psychology: A psychologist usually has a doctoral degree in psychology, which is the study of the mind and behaviors. Graduate school provides a psychologist an education in evaluating and treating mental and emotional disorders. Licensed psychologists are qualified to do counseling and psychotherapy, perform psychological testing, and provide treatment for mental disorders. It is important to remember that psychologists are not doctors and do not have the medical training that doctors do.

Counseling: Counselors and therapists typically have a master's degree in psychology, counseling or other related field. A mental health counselor is qualified to evaluate and treat mental problems by providing counseling or psychotherapy. Counseling typically involves a cognitive-behavioral approach to therapy, focusing on how you can change your thinking and behavior to deal with certain issues.

Visit our News & Seminars section of our blog for more information on divorce seminars, counseling, and more.

hi