SMP's Involvement in the Georgia Bar's Young Lawyers Division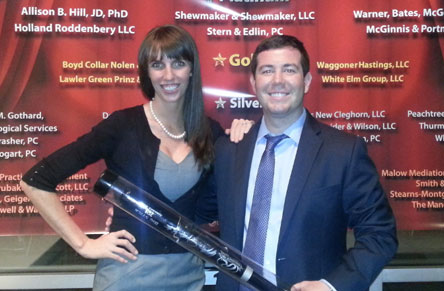 Stearns-Montgomery & Proctor's Associate Attorneys Michaela Mericle and Jonathan Brezel are active members of the Family Law Section of the Georgia Bar's Young Lawyers Division (YLD).
Michaela and Jonathan were on the planning committee for the Supreme Cork, an annual fundraiser held by the Family Law Section of the YLD. The proceeds of last night's events went to support the Guardian ad Litem Program and the Safe Families Office of the Atlanta Volunteer Lawyers Foundation (AVLF).
AVLF's Guardian ad Litem Program provides attorney volunteers, trained and supervised by AVLF, to serve as Guardians for children from low-income households in contested custody cases. The Safe Families Office provides legal and safety planning assistance on a walk-in basis at the Fulton County Courthouse to survivors of sexual assault, domestic violence, dating violence, and stalking.
The event, which included a wine tasting and silent auction, took place on October 17th.