Myia Robinson Named a Georgia Super Lawyers Rising Star 2022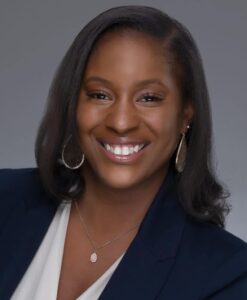 SM&P is proud to announce that Myia Robinson (Associate) has been named a Georgia Super Lawyer for 2022.
"I always wanted to be a lawyer," said Myia. She had imaged the profession to be much more glamorous than it turned out to be in the trenches of family law. But she has found her place in the field. "I fell into family law and then I stayed with it because I am uniquely situated to excel at this particular type of work," she said. "I am twice divorced, with a child out of wedlock. There is very little within the realm of family law that I have not personally experienced prior to becoming an attorney."
Myia loves her work. "The key to family law is to recognize the gravity of what you're doing and extending grace to clients while maintaining an objective perspective on your cases," she said. "There is a genuine need for family law practitioners who are knowledgeable, caring, and dedicated to making what is usually a very difficult time in people's lives a little easier and more navigable. I remember interviewing attorneys for my first divorce — some of them were absolutely arrogant and condescending. I felt they just didn't get it. I am driven by my determination to never become like one of those people I interviewed when I was so broken and seeking help for myself. Clients deserve better."
To learn more about Miya's background, visit her attorney page.