Not Happy With Your Parental Visitation Rights? How and When You Can Change Them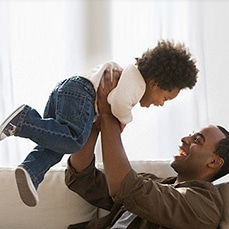 After a divorce, you may get stuck with a child visitation agreementthat you feel is unfair—leaving you with no visitation rights or very little time to see your children.
So how do you change your visitation agreement? It's not impossible, but it's not easy either. Here are a few things you need to know.
You need a very clear reason to change the original agreement.
Divorce proceedings are complicated cases that take a lot of time and energy in order to arrive at a final decision about very important matters. That means you need a really really good reason to change those agreements. You can't simply revisit an agreement on a whim or because you merely feel it's unfair. If you don't have a clear, compelling reason why you want to change it, then the court won't even bother with your case.
The best chance of changing your visitation agreement is by working amicably with your ex-spouse.
Given the court's unlikeliness to change the original agreement, your best chance—beyond any other method—is to work with your ex-spouse. If possible, sit down and come to an agreement about how you want to change the visitation schedule. A court will send you to mediation anyway, so make an attempt to work things through with your spouse.
Your second best chance of changing your visitation agreement is your kids expressing the desire for more visitation time.
As long as your kids aren't disrupting a more stable environment or walking into harm's way, they will have more say about their circumstances as they get older. They may prefer more time with you, and a court will definitely take their wishes into consideration.
You generally need to wait at least two years before you can change a visitation agreement.
Short of rescuing your kids from a dangerous situation, courts generally don't tend to consider changes to a visitation agreement until at least two years have passed. Your chance of changing an agreement will increase the longer you wait.
To change a visitation agreement with an uncooperative spouse, you need to demonstrate a clear "material change in circumstances."
If your ex-spouse won't cooperate, then you need to file a motion that outlines a clear change in circumstances. Without a clear reason to change the visitation agreement, you will likely not succeed.
Changes in circumstances that may lead to increased visitation for you include:
Moving closer to your children—especially if you've moved from out of state to live closer to your children.
Recovering from drug or alcohol addiction and proving that you've been sober for a long period of time.
Moving to a residence that's safer than where you lived before (such as a better quality home or a place where you now live by yourself instead of with volatile roommates).
Breaking up with a significant other who posed a threat to the child.
Showing that your ex-spouse may need extra help with your children, whether from an illness, injury, increased workload, or excessive travel.
Demonstrating a significant change in income that shows you can take care of your children better when they visit.
Showing that your increased visitation will lead to a more stable environment for your children.
Demonstrating major visitation issues with the custodial parent such as a failure to respect existing agreements, keeping your children from communicating with you at all, or playing fast and loose with the rules.
If you feel you have a strong case, then you would need to take the following steps.
Review your reason to change the visitation rights with your family law attorney. They will help council you about whether or not you have a good case. Don't go it alone. If you do, you will likely waste time and money that leads to no change to your visitation rights.
File a motion that gets served to your ex-spouse. The motion needs to detail the "best interests of the child" that's leading you to request a change to the visitation agreement.
Go through mediation. The court will most likely order you to do this before you enter legal proceedings. Again, a family law attorney is essential during this step.
If mediation fails, then you will have a hearing during which you and your family law attorney will present your case to a judge. If your case is compelling enough, the judge will order a change to the visitation agreement.
As a final note, you may feel shy about challenging an existing visitation agreement. Don't be shy! It's always worth talking to a family law attorney if you suspect that you have a good reason to change the existing agreement. They will be able to tell you if the "best interest of the child" is significant enough to merit revisiting the agreement.
If you have any questions or concerns about changing your parental visitation rights, contact us for a consultation.