Upcoming Adoption Seminar
Mark your calendar for May 15 at 10:00 a.m. to participate in our adoption seminar. The author Judy Sartain will review and discuss her book followed by a Q&A session. Please register below and we will send you the virtual event link, and don't forget to download Judy's book below to learn more about adoption law in Georgia.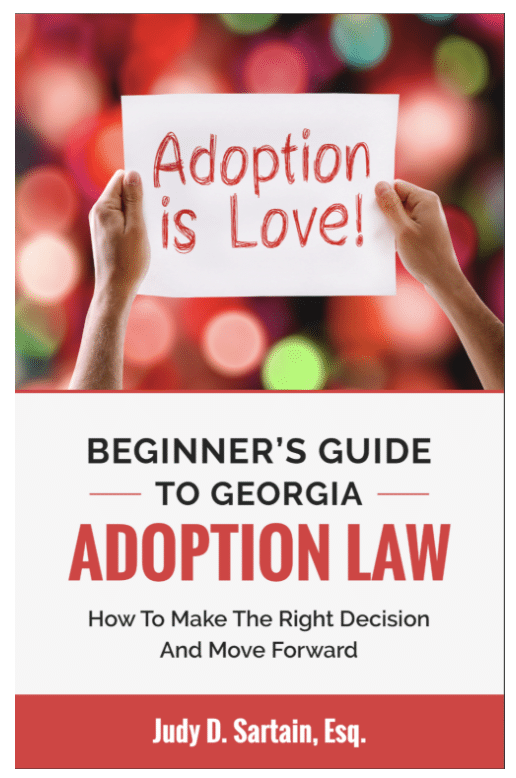 Beginners Guide to Georgia Adoption Law
This book is not intended to be an exhaustive instructional guide for the legal practitioner to learn adoption law. It is intended to be an overview of the different types of adoptions available to birth parents, adoptive parents and the legal community in Georgia.
In Georgia, Adoption law is code-driven, complex and ever-changing, making the selection of an adoption attorney critical to both the prospective adoptive parent and the birth parent or parents.
---
My name is Judy Sartain and I have been practicing law in Georgia for over 25 years. During my first year of practice, I found adoption law to be very interesting. While I didn't actively seek it out, it quickly became my favorite area of law; it's complicated, which is the way it should be since it involves such serious matters. Forging through the different nuances of the adoption code and understanding the many scenarios that could take place requires a certain level of fortitude. It's unlike other areas of law, and certainly not as straightforward as handling a divorce case or creating an estate plan, although certain circumstances may call for knowledge in those areas as well.
The Georgia Court of Appeals and Georgia Supreme Court have said that adoption law must be strictly construed, which means it has to be carefully and exactly followed. I happen to have the technical kind of brain required to strategize through the process, and over the last 25 years, I've been able to help hundreds of people create their forever family. In fact, I have finalized just over 800 adoptions. It's a very gratifying area of the law because it's not about the emotional part of divorce for a family, but it is all about bringing a family together.