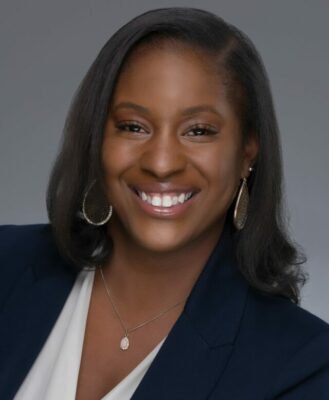 Marietta, GA
Phone: 678-971-3413
Fax: 770-426-1809
Myia Robinson
Associate Attorney
Myia Robinson, formerly Myia Knowles, has learned family law from the ground up. Starting out as a legal assistant and then a paralegal, she built on these practical skills in law school. Born in Atlanta, then moving with her family to Hinesville, Georgia, Myia was left with a longing to return to Georgia. In 2016, she graduated from Georgia State University College of Law and chose to practice family law. Having experienced a divorce of her own, she can empathize with her clients and understand what they are going through and their needs.
Myia describes herself as "a straight-forward person" and says that her clients see her as "genuine, brutally honest, and a realist. I am always honest, and I like getting the best possible result for my client. No two cases are the same and each case and client will need a specific solution that works long term for their family unit."
Her own family background has had a strong influence on how she practices family law. She has lived and experienced the family dynamics of her mother being married multiple times. She explains, "I have skill in navigating complicated family dynamics. Long story short, I am uniquely situated to excel at this type of work because I generally understand issues from multiple viewpoints."
While having empathy for her clients, she is careful to put in diligent research and rely on the facts of each situation. "I research everything, even if it's a problem I've seen before. I don't get emotional. The client can be emotional, but I need to be levelheaded and think through their case."
Founding and managing partner at SM&P, Mary Montgomery, says, "I appreciate Myia's straightforward approach as well as her strong research background and practical experience." Mary adds that "Myia's additional experience in criminal law while working for a district attorney and her litigation experience attending emergency hearings will complement the type of work our firm handles with family violence and temporary protective order hearings."
Living in Duluth, Georgia, when Myia is away from the office, she enjoys cooking, travel, and spending time with her daughter. During the current health conditions and restrictions, binge-watching sci-fi and comedies has contributed to a relaxing evening at home. According to Myia, there will always be room for a pro football game.
BAR ADMISSIONS
State of Georgia, 2016
National Bar, 2015
PROFESSIONAL ASSOCIATIONS AND MEMBERSHIPS
EDUCATION

Georgia State University College of Law
Atlanta, Georgia, 2016
Juris Doctorate, Cum Laude

Georgia Southern University
Statesboro, Georgia, 2012
Bachelor of Arts, Justice Studies