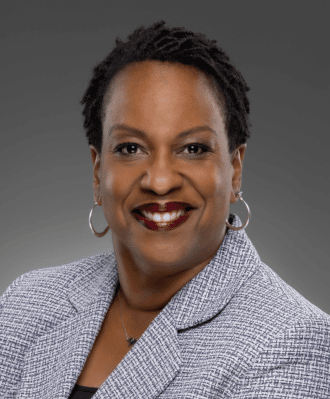 Fayetteville, GA
Phone: 678-275-8006
Fax: 770-426-1809
Kimbley Puckett
Associate Attorney
Atlanta native and UGA graduate Kimbley Puckett was employed in the legal field for more than two decades before being recruited by SM&P. One reason she made the move was her desire to worry less about the administrative/management part of maintaining and growing a business and concentrate more on her clients. "I prefer this environment where I am able to give my clients all the attention they deserve," Kimbley noted.
Kimbley started her career advocating for domestic violence survivors. "I have worked with victim advocates, law enforcement, and judges to give survivors a voice. I contributed to the Georgia Domestic Violence Benchbook."
She also developed a collaborative seminar to show people the benefits of estate planning, often an important aspect of family law.
"I chose SM&P because of their focus on family law," said Kimbley. "I believe a concentration allows you to perfect your skill set. Also, Stearns-Law has an impressive reputation in the legal community. The individual attorneys are highly regarded among our peers as well. At this point in my career, I want to learn and contribute to a team with a high level of excellence and this firm will allow me to do just that."
Kimbley found the rapport among Mary and the team very appealing. "Mary has a commanding but humble presence," she said. "I know how hard it is to grow a successful and long-standing business. Mary's accomplishments are beyond impressive."
Mary was interested in Kimbley's years of experience, her dedication to client needs, and the obvious comfort level with the SM&P team. "Her knowledge of the law is impressive," said Mary. "But her ability to best apply it to clients' cases makes her the kind of standout we value here at Stearns. The Fayetteville office will benefit from her presence there."
Clients describe Kimbley as knowledgeable, personable, accessible, professional, and committed. She describes herself as effective, compassionate, and dedicated.
"But I am not always a cutthroat attorney," she said. "I believe sometimes you can be more effective when you have grasped the facts, the law, your client, the judge, opposing counsel, and the opposing party. You get more with honey than vinegar."
She explains that the holistic approach she takes in representing her clients is what sets her apart from many attorneys. "My goal is to make sure the client is whole in every aspect of their lives."
Kimbley shares her legal expertise with the community at large by teaching classes and seminars such as Estate Planning 101, Why Estate Planning is Important, Bankruptcy and Family Law, Resume Building, and Women & Wealth.
"I try to maintain healthy relationships with family and friends through social gatherings like traveling, eating out, and dancing," Kimbley said. "I am an avid cigar smoker, so I highly enjoy cigar events like meet and greets, cigar pairings, and fundraisers. It helps me to relax and recharge."
She raised her sons, Xavier and Jonathan, as a single mother while starting and running her own law firm in McDonough. "I made sure to keep them active while they were growing up. I was not just a soccer mom. I was a sports mom -- baseball, basketball, football, and soccer. I am very proud of them."
Kimbley has two Yorkies, Tigger and Roo, and two bulldogs, Boogie and Garnet. "None are related but all get along," she brags. "My girls are alpha females and show it every day. They are like two teenage girls-- stubborn and outgoing. My boys are laid back. They are all very protective of our home in McDonough. I used to be afraid of dogs. I never thought I would be a dog mom. Now, I do not remember not being one."
"I am extremely maternal," said Kimbley. "I take my job as a mother -- biological, puppies, and friends -- very seriously. I am protective of the ones close to me. That protection extends to my clients."
BAR ADMISSIONS
US District Court – Northern District of Georgia, 2014
Georgia Court of Appeals, 2000
US District Court - Middle District of Georgia, 1999
State of Georgia, 1998
Georgia Superior Court, 1998
HONORS & AWARDS
St. Thomas University Outstanding Achievement in Professionalism
PROFESSIONAL ASSOCIATIONS & MEMBERSHIPS
Georgia Bar Association
Henry County Bar Association
Delta Sigma Theta Sorority, Fundraising Chair
Local Pan-Hellenic Historian
County Liaison for the Georgia Democratic Party
Douglas County Taskforce on Family Violence, 2007-2009
Co-Chair of Minorities in the Profession, 2006
Governor's Consumer Advisory Board, 2004-2006
CLASSES & SEMINARS TAUGHT
Estate Planning 101
Why Estate Planning is Important
Bankruptcy and Family Law
Resume building
Women & Wealth
EDUCATION
St. Thomas University School of Law
Miami, Florida, 1998
Juris Doctorate
University of Georgia
Athens, Georgia, 1994
Bachelor of Arts, Political Science