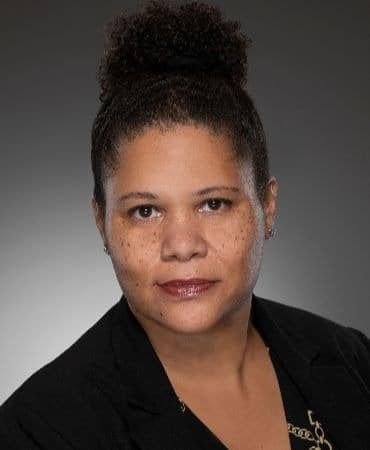 Marietta, GA
Phone: 678-971-3413
Fax: 770-426-1809
Ebony Ameen
Associate Attorney
After graduating from college, Ebony moved back to Atlanta so she could be closer to her family and still live in a big city. Ebony knew exactly what she signed up for when she enrolled at Emory University School of Law -- she had worked in the legal trenches as a secretary and paralegal before committing herself to a life-long career in the field.
Although Ebony has worked in a variety of law areas over the last two decades, including criminal defense, immigration, real estate and some bankruptcy, her interests have recently coalesced around family law so that she could further her dedication to helping families resolve their legal issues. "I enjoy practicing family law," she said. "I am particularly interested in the collaborative process and alternative dispute resolution, especially self-resolution." As she began to see more families struggling with immigration issues, including facing state criminal charges (misdemeanors and felonies) and removal proceedings, she also developed expertise in that area.
Her desire to work at a small- to mid-sized firm in Cobb County led her to SM&P's Marietta office. "Everyone seems invested in helping me succeed here. I appreciate that they are friendly, down-to-earth, and straightforward. Even before I formally met anyone, I felt like I'd known them all for a while. I'm excited to be part of this team!"
Ebony believes that her direct approach as well as her reputation for fighting hard for her clients convinced the firm to invite her aboard. "I've been called a pit bull in a skirt," she said. "I never like waiting until the last minute to get things done." She has also been described as humble, hard-working, detail oriented. She is a transactional attorney and a good litigator, putting her clients first throughout the legal process. "I tell them the truth about their situation -- the good, the bad, and the ugly. I keep open lines of communication."
"I take the practice of law very seriously, but underneath it all, I have a good sense of humor. I don't take myself too seriously, but I take my mission very seriously. I do a good, thorough job at whatever I put my hand to."
When she is not practicing law and helping clients, Ebony's second full-time job is as a single-mom "muber" (mom uber) for her 13-year-old son Tyler, driving him around to yu-gi-oh (a trading card game) tournaments and soccer games in Cobb County. She loves playing and walking with her two 70+ pound mixed-breed rescue dogs, Mansa and Lucky, travelling, hiking es, and enjoying outdoor activities. She is trained in classical piano and has been a concert performer. She likes watching crime shows like Criminal Minds, Law and Order, and Forensic Files. She plans to earn a pilot's license in the next few years, time permitting.
PROFESSIONAL ASSOCIATIONS AND MEMBERSHIPS
Real Estate Practice Section of State Bar
CLASSES / SEMINARS TAUGHT / PUBLICATIONS
CLE FAMILY LAW – Counterclaims for Custody (New Law)
EDUCATION

Emory University School of Law
Atlanta, Georgia, 2002
Juris Doctorate

Vassar College
Poughkeepsie, New York, 1998
Bachelor of Arts
Major: English and Political Science
Honors English Thesis