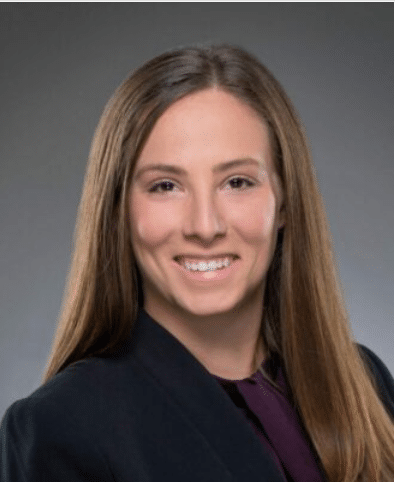 Marietta, GA
Phone: 678-971-3413
Fax: 770-426-1809
Carly Shore
Associate Attorney
Carly is one of those rare attorneys who can take seemingly unrelated skills and combine them for the benefit of her clients. She has a degree and background in accounting and insurance. Therefore, not only does she have the attorney's aptitude for words, she is a master of numbers. Using these complementary fields of expertise, she has successfully dealt with cases dealing with assets or any kind of support such as high-asset divorces, DFCS cases, and highly contentious custody cases.
To accomplish these legal feats, Carly has proven herself in drafting legal documents, including proposed orders and various motions for family law matters, assisting clients in the preparation of financial affidavits and documents for mandatory disclosure, and laying the groundwork for hearings and trials. She is capable of researching issues such as international child custody disputes and dissolution with an incapacitated party and preparing for mediation and case management conferences for family law matters.
Despite her previous success in legal matters, she felt ready to make a change. "I've enjoyed my experiences with family law and always intended to make a career of it," Carly said. "I was ready to stop approaching law in a purely intellectual way and start practicing with heart as well. Family law requires empathy and understanding, and those are qualities I admire and want to maintain in myself."
Carly doesn't see law as only a career. It is a calling. She was awarded the Outstanding Pro Bono Service Award in law school for her willingness to donate her time to people needing but unable to afford legal help. In particular, Carly volunteered with the guardian ad litem program advocating for the best interests of children (from infants to older teenagers) who were in the dependency system, so she understands the special difficulties that come along with DFCS cases. Through that program, she made monthly visits to children and caregivers, drafted visitation reports and reports for judicial reviews, and attended and testified at judicial reviews and hearings.
Carly remains a supportive person who strives to make clients feel seen and heard. "I try to find a point of common ground with everyone I speak with," she said. "I'm also very clear-headed and solve issues in cases in a methodical, rational manner. I try to be straightforward and make it a point to explain legal issues to clients without 'legalese.' I don't take myself too seriously -- I'm not afraid to admit when I'm wrong, to learn from others, and to ask for input when necessary."
Clients say Carly makes it easy for them to understand what's going on in their case by explaining things in layman's terms and distilling the issues down for them. They also say she is easy to talk to and a diligent lawyer who works quickly and communicates well.
When she first met with SM&P's hiring committee, she noticed right away that the firm has a culture of working hard but having fun doing it. "I also think the wide range of expertise and years of experience between everyone at SM&P makes the firm a great place to demonstrate yourself as an exceptional family law practitioner."
Mary Montgomery, the firm's founding and managing partner, was at first interested in Carly because of her knowledge in both the law and accounting. "We do look for financial experience when we recruit our team members because almost all divorces have some element of money involved," said Mary. "But when we realized she looked beyond the facts and numbers to really see and care about clients, we knew she was a keeper."
Outside of work, Carly spends time hiking with her Australian shepherd, Sadie, watching college football with her husband, Kyle, and trying out new recipes in her downtown Atlanta kitchen. "I can also be found reading by the pool, taking weekend road trips around the southeast, and attempting to play tennis."
Carly is slowly trying to check spots off her north Georgia hiking list. She and Kyle frequent Red Top Mountain Trails, Amicalola Falls, and local hikes like Island Ford, Vickery Creek, and Cascade Springs Nature Reserve. "My immediate goal is to start doing some overnight weekend hikes," she said. "Long term, I'd like to eventually section-hike the Appalachian Trail over a few years."
She also co-captains the golf cart for Kyle on some weekends, usually in Canton, but often around the Atlanta and north Georgia area, to enjoy the weather and get some quiet reading time in while he golfs.
"Weather permitting, we like to take Sadie out with us to watch games -- college football, NFL, the Braves, the Hawks – and checking out Dr. Scofflaw's, a brewery on Atlanta's Westside.
EDUCATION

University of Florida Levin College of Law
Gainesville, Florida, 2019
Juris Doctorate

Flagler College
St. Augustine, Florida, 2016
Bachelor of Arts, Accounting