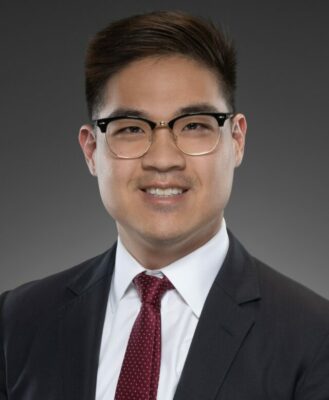 Alpharetta, GA
Phone: 770-308-5376
Fax: 770-426-1809
Burton Miller
Associate Attorney
Burton was born in Seoul, South Korea. When he was five months old, a Georgia family adopted him, raising him in Athens. During his last year of law school at Georgia State University, he was president of the Family Law Society. Also, he was invited to participate as a student representative in the Weltner Inn of Court, a society that specializes in family law and regularly presented on new and expanding topics in the field. While interning for Judge Ural Glanville in the Family Division of the Fulton County Superior Court and with the Atlanta Volunteer Lawyers Foundation, he was active in assisting victims of domestic abuse obtain protection orders.
After graduating, Burton worked as an associate attorney with a large Atlanta area law firm practicing consumer bankruptcy law. As the second-largest law firm in Georgia and the largest consumer bankruptcy firm in the country, Burton demonstrated his aptitude for multitasking and was recognized for filing the most cases out of his associate class.
Although he enjoyed great success in bankruptcy law, he had wanted to practice family law since starting law school. "Being adopted and growing up in a divorced household," he said, "I feel a personal connection to the field. This leads me to be more empathetic and patient with clients."
While looking for an opportunity to focus on family law, Burton reached out to multiple family law attorneys in the metro Atlanta area. "Every one of them recommended Stearns and only had positive things to say about the firm and its attorneys. When I met Mary, the founding and managing partner, I recognized she had an ability to find, build, and maintain a firm with an outstanding reputation. I realized my connections were right about her and the firm."
During the hiring interviews, he felt comfortable and knew he would be a good fit for SM&P. "I left our meetings enthusiastic about the opportunity to learn from a group that has an outstanding reputation and is willing to share their deep and broad experience with me."
Mary quickly realized he possessed a very effective combination of knowledge and a personalized approach. "His experience proves that he has the mental stamina to stay on top of the most challenging cases. But that's only a means to an end for him. He's motivated to work hard because, ultimately, that's what clients need and deserve."
Burton describes himself as caring and a person who does not shy away from the sometimes very emotional counseling process. He is very self-assured about his ability to strongly advocate for his clients. "I can quickly build a good rapport with clients, which I believe puts them more at ease with the legal process. They feel 'heard' when they describe their issues and share what they hope to accomplish with their cases, so they've repeatedly given me positive reviews."
Outside of work, Burton enjoys exploring the Atlanta Beltline on the weekends. Also, he likes eating at new restaurants in his search for the best ramen in the Metro Atlanta area. He cheers for the Atlanta Braves and regularly travels to Athens during the fall for UGA football games.
BAR ADMISSIONS
State of Georgia, 2019
US District Court for the Northern District of Georgia, 2019
EDUCATION

Georgia State University College of Law
Atlanta, Georgia, 2019
Juris Doctorate

Furman University
Greenville, South Carolina, 2016
Bachelor Of Arts, History and Political Science
Minor, Latin American Studies