SM&P Supports National Wreaths Across America Day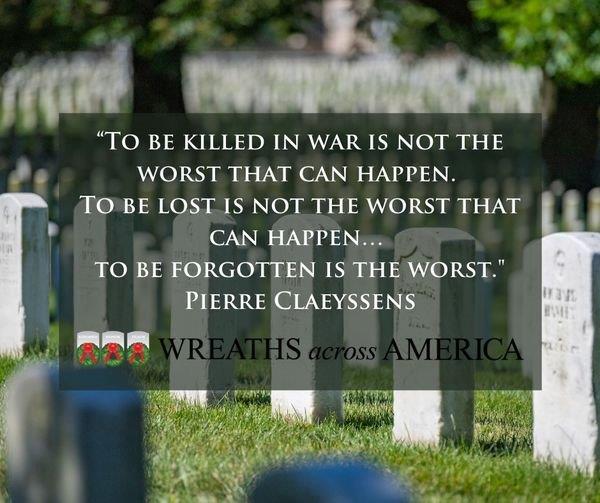 Each December on National Wreaths Across America (WAA) Day, the mission to "Remember, Honor and Teach" is carried out by coordinating wreath-laying ceremonies at more than 1,600 locations in every U.S. state, at sea, and abroad to remember military members who served our country, including those who made the ultimate sacrifice.
This year, due to the surge of COVID-19, the usual groups and individuals who gather each year to place wreaths on graves at the Marietta National
Cemetery were unable to come together for this sacred event. Instead, the Fielding Lewis Chapter of the Daughters of the American Revolution in Cobb County provided a small ceremony, and the wreath-laying took place on December 19 with a few SM&P employees in attendance.
"It was disappointing that we couldn't have as many participants as usual this year," said Sherri Dombi, SM&P executive assistant and a Marietta resident who was present for the ceremony. "But the sincerity of our modest tribute was touching in its own way."
Part of the ceremony involved the placing of a wreath on behalf of an out-of-state Daughter (DAR member) who asked the chapter to lay a wreath at her great-great-grandfather's grave. "Although we were unable to replicate what was originally planned by WAA for the ceremony," said Chapter Regent Ann Ameye, "I am glad that we still honored those buried there."
"A big part of our firm culture has always been giving back," said Mary Montgomery, SM&P founding and managing partner. "And giving back to those who gave so much, especially those who gave everything, is something we all believe in here. That's why, again this year, we decided to be a sponsor."
At many tables this holiday season, a seat once warmed by a family member or friend who is serving or one who will never come back sits empty. There is no better time to express our gratitude than during the solemnity of this holiday season. Everyone at SM&P wants to show our veterans and their families that we will never forget their gift of time and safety every day of the year to preserve our freedoms.